Excel Maritime
We are a Multimodal Operator providing One-Stop Solutions for a whole range of EXIM services.

As a customer-focused organization, we offer comprehensive services through an integrated approach. We undertake Turnkey Project Services and also Consultancy Services with constant innovation and consistent value addition for our clients which has created benchmarks of Quality and Professionalism

Our Services include EXIM Legal - End-to-End EXIM Services / Consultancy, Customs Clearance (CHA), Freight Forwarding & Ship Chartering (Air & Sea), Logistics & Haulage, Project / Process Cargo Specialist and Trading – To Trade anything on EX-IM

Excel Maritime is an ISO 9001:2015, ISO 14001:2015 and ISO 45001:2018 Certified Company.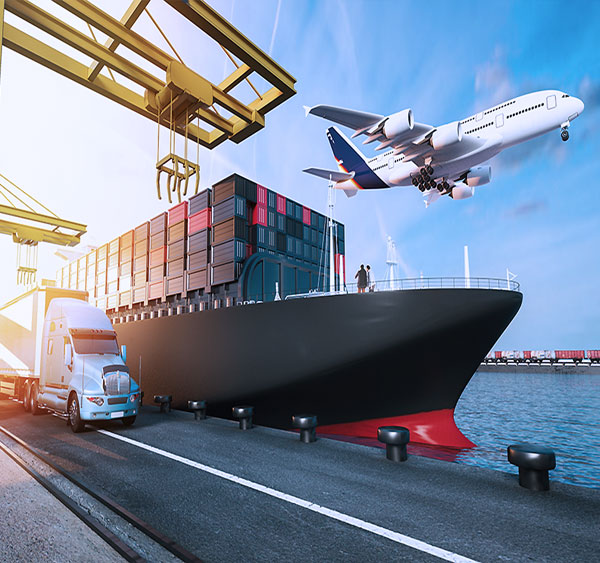 All Under One Roof
We provide our clients with a one-stop solution availing all services under one roof. Our services include EXIM Legal compliances, Customs Clearances (CHA), Logistics and Haulage, Freight Forwarding and Ship Chartering - Air and Sea, Containers, Warehouses, Stuffing and Packaging Solutions.
Fully Certified Company

Cost Optimization

Hassle-free Operations

Time Bound Delivery

Experienced Team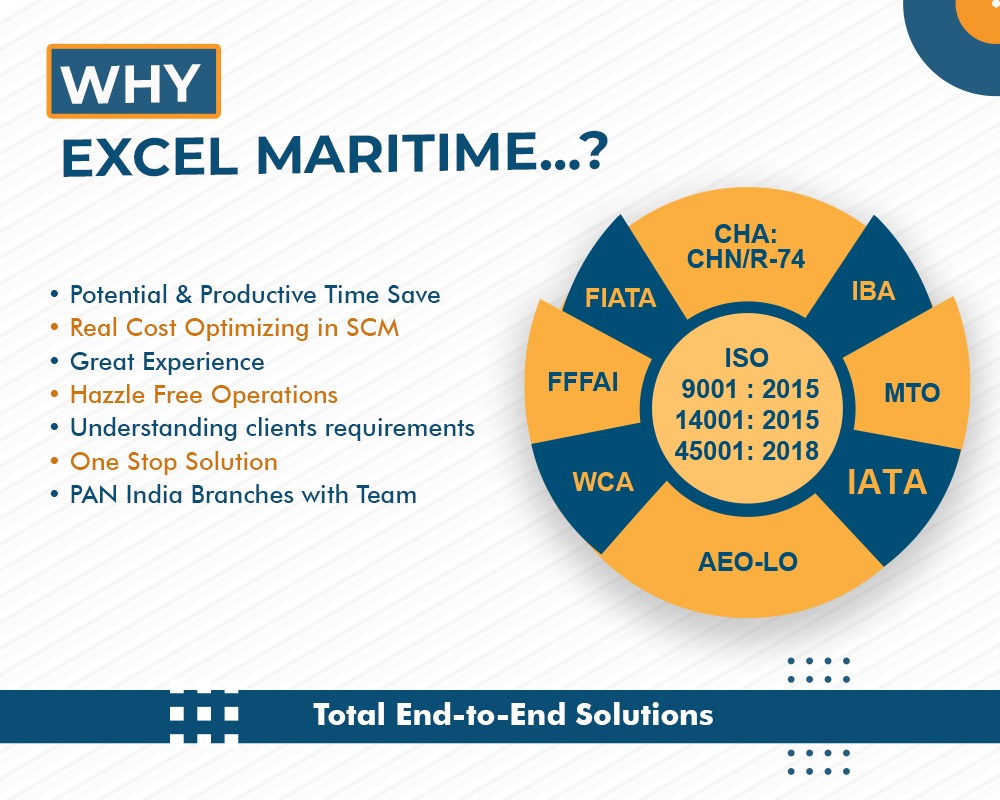 Our Certifications for Hassle Free Shipping & Logistics Operations
Excel Maritime holds all relevant certifications and valid licenses required for handling varied customer requirements across segments like Windmill, Paper & Pulp, Power & Energy, Automobile, Cement, Boilers, Textiles, Agri / Agro Products, Container, Bulk, Break-Bulk, ODC and other Product and Process Industries across the globe.

Quality Management Systems

Environmental Management Systems

Occupational Health and Safety

Customs House Agent

Authorized Economic Operator

Multimodal Transport Operator

International Air Transport Association

International Federation of Freight Forwarders Associations

World Cargo Alliance

Federation of Freight Forwarders Associations in India

Indian Bankers Association

Digital Frieght Alliance

Total End-To-End Solutions
We are equipped to handle all compliances and logistics requirements for all types of cargo right from the point of origin to the point of delivery.

Experienced Team
Our team has an enriched experience of more than 25 years in the field and we also have skilled young professionals who constantly update the technical operations based on the current market trends. We can handle large and complex like Boilers, WTG, Power and Energy projects with utmost ease.

Fully Certified Company
We are one of the very few companies to have all the relevant certifications & valid licenses required to execute our services

Time Bound Delivery
What we commit, we deliver. We guarantee on-time delivery for all the projects we undertake which has enabled us to maintain long-term business relationships with all our clients.

Cost Optimization
We have stood by our clients offering them the best and most cost-efficient solutions, resulting in hugely saving their financial resources.

Hassle-free Operations
Our operations are hassle-free from the beginning-to-end which is made possible with experts & experienced professionals in all the fields related to the EXIM industry. We always ensure that our clients remain stress-free
Global Logistics
Any Type ! Any Size !! Any Weight !! Any Where !!!